What did you do this Friday night? You were probably at home, like the rest of us. Since the COVID-19 pandemic there are a lot of Drag Queens, Bartenders, and others without work. Who's that to the rescue with a great idea…? It's a bird? (I'd say taller than the big yellow one so, No), it's a plane? (No, no one is flying in those right now), but it's Tampa Bay's own Daphne Ferraro and Friends entertaining us LIVE from living rooms, dressing rooms, closets and about anywhere you can put on a show. I introduce to you the FIRST ever, Daphne and Friends - A Socially Distant Drag Show. I tuned in (It's FREE and No Cover). You can Tip the Girls and enjoy some distant entertainment; here is a re-cap in case you missed the PREMIER.

Before we get into the re-cap, I want to go over how this all works. First, download: INSTAGRAM on your phone (if you do not have an account maybe consider it). For Tipping Options- download one of two Apps; CashApp or Venmo both are used by the entertainers and these go DIRECTLY to them. Now, we move to the re-cap.
Daphne chats with her guest performers during the show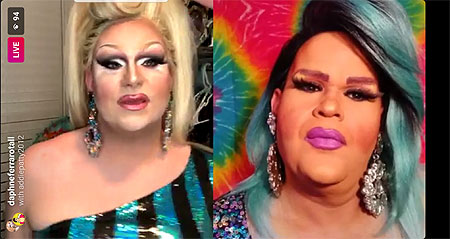 Keep in mind this is the first show; Daphne had over 100 viewers at some points; that is AMAZING! A host and six entertainers from all over the US performed in the safety of their own homes while we all watched from the safety of ours.(IG @daphneferrarotall) Daphne opens the show full screen from her dressing room at home; great for us, as she offered us an impromptu dress change between some of the acts. She brings on each entertainer and asks how they are doing, how they are handling being bunkered down at home; she then turns it over to the performers. Each one has their own performance, special back drops, "props", lights, even a camera person for a full living room stage presentation. The show was great; everyone brought something unique to the table.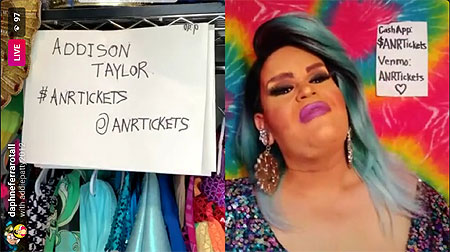 Pictures from during the performances


Photo Credit: Tampa Bay Gay
After the performances the "After show" begins also impromptu; viewers got a glimpse of what I imagine is the back stage dressing room sights and sounds. There were still around 80 viewers, Daphne started having fans, friends, and some of the performers (fresh out of Drag) join her on the feed for discussion and feedback on the show. Daphne's husband even makes a special appearance. It was also really nice to hear from one of the performers, that she made enough in tips to pay a bill. As Daphne said to me via Facebook messenger, "we made Lemonade!", and she is right. They threw lemons, she got to work.
The Unofficial "After Show" Pictures
Photo Credit: Tampa Bay Gay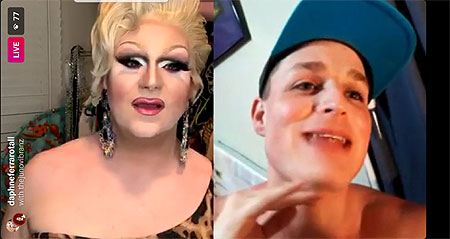 Juno Stops by after her performance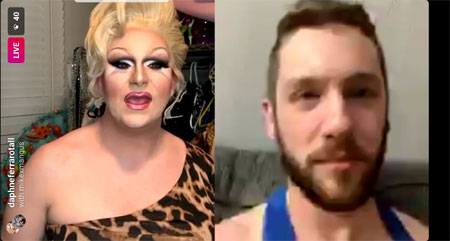 Some of Daphne's friends and fans sharing what they thought of the show

Daphne also shared that back by popular demand, Daphne and Friends returns with a bigger show, more guests, and rumor has it that Daphne has a special treat in store too. Friday, 3/27 at 9:30pm ET tune into Daphne's Instagram (IG) @daphneferrarotall where you will see her LIVE feed. Kick back it's the start of the weekend, grab your drink, popcorn, dog, partner or whatever (you're at home) and enjoy the show. Please remember to tip the entertainers; they are not getting paid to do this.

In a very fluid situation these days we can all work together and we can make wonderful progress. Any support helps these performers right now tips and even a heart emoji. Share this event with friends, family, or someone who has never had the opportunity to see some of these entertainers.

We are all in this together they say, so grab a seat, a drink and I will see you on IG this Friday for Daphne's 2nd show!



Dave Borman, Editor
Tampa Bay Gay